Fund Isaan strongly believes that being able to talk a second language is a basic need in today's world where information is shared globally via internet and global networks. Not being able to understand and contribute to these networks is a handicap dividing the world in different groups and widening the gap between these groups.
Children in Isaan are very eager to learn English, but have little opportunities to do so. Often their teachers only have a theoretical knowledge of the language and little or no practical experience. This results in a bad pronunciation, which is transferred to their pupils.
To support local teachers Fund Isaan sends volunteers to the region for short (6 to 8 weeks) or long term assignments (6 months or longer).
How do we select our volunteers
Companies that want to add a hands-on experience to their corporate social responsibility programs for their employees can contact us. Together with your CSR director or HR department we will develop a tailor made program that fits both the needs of your company and our target group. We have substantial experience working together with other large companies such as Deloitte Belgium and delaware.
Colleges and Universities looking for international internships for their language students can reach out to us.
We pay close attention to the selection of our volunteers, for that reason we do not accept individual candidates but only work through companies and schools.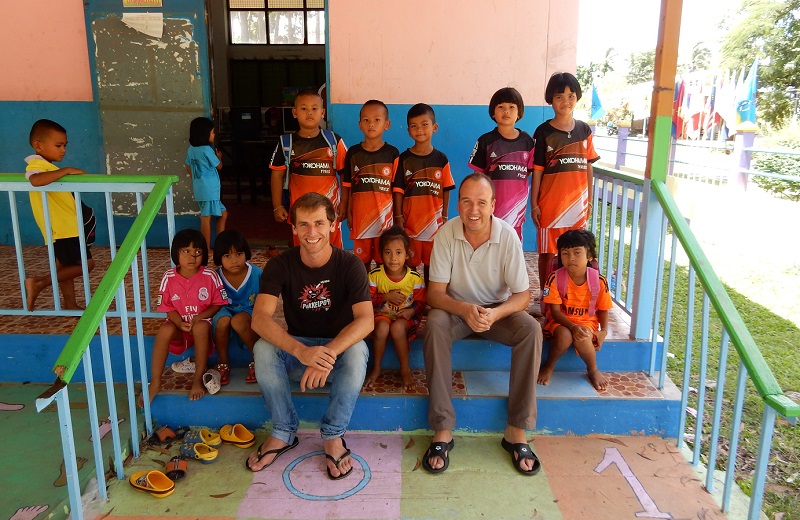 What do we expect from our volunteers
Being able to speak fluently English is the basis. Experience in education is an advantage. We expect a volunteer to be fully committed and focused on his or her assignment during the stay in Isaan. Seen the circumstances the volunteer will be working in, a certain level of "entrepreneurship" and "improvisation skills" are highly recommended.
The volunteer will often be the only foreigner ("farang") in the region and will live with a guest family, carefully selected by Fund Isaan. During the day the volunteer will join the local English teachers and work with their pupils side by side. Not only will the children learn from the interaction but also the teachers.
What do we offer a volunteer
The experience of a lifetime! The volunteer will learn about the Thai culture, habits and social network. Does it work? We believe it does. Just read the testimony of some of our volunteers attached to this article.
Fund Isaan will make sure the travel expenses (flight from and to Bangkok) are paid and will handle the formalities to obtain your visa. We will also prepare the volunteer through presentations, personal conversations and our teacher portal with guidelines and instructions allowing the volunteer to start the assignment from day one.
Is your company or college/university interested?
Testimonials
"Deciding to become a volunteer teacher English in Thailand... the best thing I ever did! . Thank you to Fund Isaan and delaware for giving me the chance and trusting me to be part of this amazing program."
Ellen Van Boven,
November 26th, 2019
"I am really thankful for this experience, I can see the positive impact of my presence at school and at my host family. In fact, I am receiving more than I can give as Thai people are infinitely generous and kind."
Melanie Buchmaan,
November 14th, 2019
Several of our volunteers have blogged about their experiences during their volunteering adventures for Fund Isaan in Thailand: