Twenty years ago the biggest challenge for education in "less developed" regions was basic education. Children and adults had to learn how to read and write.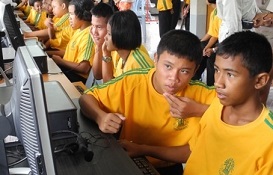 Meanwhile, Information Technology (IT) has become the single most important source for the availability and the transfer of knowledge. These are the main drivers for economic and social progress. While the western commercial world is using IT to its full extent, less developed regions get further and further behind. Even schools in the West have problems to keep their IT infrastructure up to date. For schools in some other areas of the world it is simply impossible.
Fund Isaan provides schools in the North East of Thailand with "state of the art" computer classes. A typical class consists of a number computers (based on the size and needs of the school) and a multifunctional printer unit all connected via a network and internet enabled. On top of this we provide standard software solutions including our own developed learning tools and e-learning for kids solutions.
Volunteers of Fund Isaan take care of the installation of the computer class and guarantee the maintenance and regular update of the class during its normal lifecycle. Furthermore they train local teachers to assure that they can work with the equipment. In return the Fund asks the schools to organize adult education for the villagers of the surrounding communities and to open its doors for other schools in the area.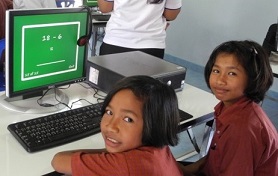 This approach has proven to be a real success. More schools apply for a computer class than the Fund can handle. Kids are motivated more than ever and adults are trained by their own children in basic computer skills.
Those that want to follow our example are more than welcome, but let's be careful. Importing computers in Thailand and in many other countries is not as simple as it sounds. Anti-dumping regulation needs to be respected, which requires import permits in most Asian and third world countries. So before you get started make sure your paper work is under control.
Meanwhile we have installed computer classes at:
2023 Muang Tee School, Surin Pittayakom School, Surin Pakdee School, Nong Sanowittaya School, Ban Chan School, Srisampaoloon School, Ban Charas School, Pracha Samakhi School, Ban Roon School and Ban Khok Klang School
2020 Sangkha Industrial and Community Education College, Ban Kadad School, Ban Puangtuek School, Ban Tataew School, Matthayom Jarapat Witthaya School and Lam Phlapphla Witthayakarn School.
2019

Thep Udom Witthaya School, Traimit Witthayasan School, Muang Bua Witthaya School and Piti-Dharmmanusorn (Singhaseni) School.

2018 Ban Thanong School, Prasat School, Ban Tasoh School, Narai Khampong Witthaya School and Sopapphitayaporn School
2015 Khaen Dong Watrajsamagkee School, Ban Sarai School, Thungluang Phupphachai School, Ban Sala School, Ban Ponduan School
2013 Ban Tamor School
2008 Cheun Pleung School
2008 Tabao Wittaya School
2007 Ban Thanong School